Applicants aspiring to join studies at Shifa Tameer-e-Millat University are advised to read the eligibility for application (read here) carefully and apply early without waiting for the last date. Admission to STMU is always competitive and well contested and applicants will be better advised to prepare for the admission process seriously and with commitment.
Online Applications without application fee will not be entertained. The application fee covers costs of processing, entrance test and interviews. Local applicants can pay the fee (different for different programs) in the prescribed bank while Foreign Students would be able to pay fees by credit cards.(All fees are non-refundable)
Students applying on both categories and/or multiple programs must submit multiple/separate applications with their respective fee.
Online Admissions (Guide)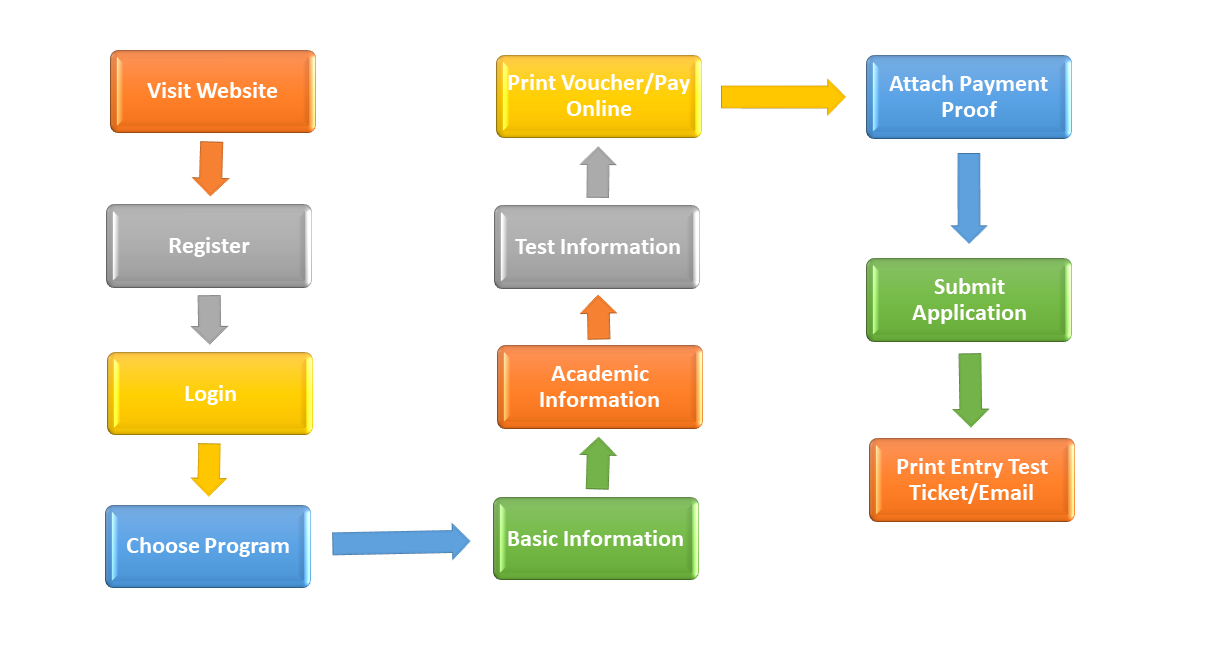 Step-by-step Online admission Guide
Step-by-step guide on How to fill online admission form.
Click here
Frequently Asked Questions (FAQ's)
1. How do I complete the application process?
Applicant should complete the online application and submit the application fee. Local applicant can pay the fees in any online branches of designated bank(s) and International applicant can pay online using a credit card.
2. What Documents do I need to complete the process and where do I send them?
Applicants are required to submit the application online, upload scanned documents, pay application fee to the bank and if results are pending, post or deliver by hand photocopies of documents to the admission office. Documents include: (where applicable).
Detailed Marks Sheet of S.S.C. and F.Sc.
Equivalence certificates of O-Levels and A-Levels
Equivalence certificate of High School Diploma.
3. How much is the application fee?
The application fee, varies if you are a local or a foreign student. The cost of the application fee will be indicated on the completion sheet/bank voucher created at the last step of online application setup.
4. How can I pay the application fee?
The applicant applying from Pakistan will be able to print a bank voucher and can pay the fee in cash in any of the online branches of designated bank(s). The International applicant can pay their fee online using a credit card.
5. How do I make changes to my application after it has been submitted?
Once the application has been submitted changes are NOT ALLOWED. However, if there are areas that were left incomplete, like F.Sc. results, the applicant can request the Admissions Office to update his/her application.
6. How long will it take to process my application?
Shifa Tameer-e-Millat University will begin processing applications soon after they are complete and it may take up to one week.
7. Do I need to take Entrance Test?
Every college/department/program has thier own schedule of test. University conducts entry tests both through NTS and respective colleges. Please see the admission policy of respective college/department/program. International applicants are exempted who provide SAT II scores.
8. What is the application deadline?
Deadlines are different for different programs. Please visit respective programs on the website for details.
9. When will I receive an admission decision?
A limited number of applicants are called for an interview. The final decision will be sent to you after the interviews have been completed.
10. How do I obtain my user name and password?
After the initial registration you will receive your username and password via email. You will be required to enter this username and password every time you wish to login to the system.
11. How will I know if my application payment has been received?
As soon as the Admissions Office receives your fee payment, an email and SMS will be sent to you for confirmation.
12. When I final Submit, it does not save and gives an error message of "Application is incomplete".
Click on the relevant tab and complete areas that are left blank. Click save and go back to final Submit.
13. How do I apply for both categories - foreign and local (International Student)?
You can apply on both categories by clicking "For applying in another program" on home page after login.You will have to pay two separate respective fees.
14. If I am applying on both categories than how much fee I have to pay (International Student)?
If you are applying on International seat you need to submit US$: 200 (plus service charges) through online payment/credit card; and in case of local seat you need to submit as per different fee schedule of programs on the fee voucher created at the last step of online application submission.
15. How can I prove my status of being an international student (International Student)?
Please provide any one of the following documents:
Copy of Passport
Proof of Dual Nationality
Overseas I.D Card
Proof of Intermediate equivalent qualification from outside Pakistan.
16. Is there any need to submit hard copies of documents?
If you have not submitted scanned copy of your documents than for verification purposes you have to provide hard copies of all documents to the Admissions Office. Documents can be submitted both personally or by hand to the Admissions Office. Original documents are also required for verification at the time of interview.