Department of Pharmacognosy
The department of Pharamacognosy at the Shifa College of Pharmaceutical Sciences aims at development of Pharmacist capable of understanding the role of natural products in Complementary and Alternative Medicine. We are focused at teaching about the incorporation of herbal based medicine along with addressing the role of plant biology and natural product chemistry in formulation development. The contents covered during the Pharm.D program involve study of crude drugs, extraction of natural products, major classes of plant secondary metabolites, therapeutic uses of herbs and clinical pharmacognosy.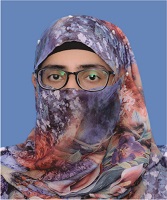 Dr. Syeda Saniya Zahra
Ph.D., M.Phil., Pharm.D. (R.Ph., Pak.)
---
Assistant Professor
Incharge Pharmacognosy Department
Dr. Zahra is serving as an Assistant Professor and Incharge Department of Pharmacognosy, Shifa Tameer-e-Millat University, Islamabad and M.Phil. in Biochemistry from Quaid-i-Azam University (Pak), Islamabad. She enrolled in the PhD program at QAU and carried out her research in the field of Pharmacognosy at QAU and the prestigious University of California Santa Cruz (UCSC), USA. Her research interests involve natural product drug discovery and development, bioassay-guided isolation, Phytochemistry, natural product formulation and quality control of herbal products. She has contributed to several research publications and patents.

Dr. Omer Farooq
M.Phil. B.Pharm. (R.Ph., Pak.)
---
Senior Lecturer and Ph.D Scholar
Dr. Farooq has practical experience in different domains of pharmacy. He has vast experience in the field of retail pharmacy, hospital pharmacy and academic pharmacy. His research interests include the in silico, in vitro and in vivo screening of phytochemicals. He completed his M.Phil. Pharmaceutical Chemistry program from Riphah International University, Islamabad and is worked on the pharmacognostic approaches to establish the role of prostatin derivatives in HIV latency by applying computational biology techniques.