Department of Pharmaceutics
Pharmaceutics is one of the major departments of Shifa College of Pharmaceutical Sciences. The department offers courses spread from Foundation year till the semester year of Doctor of Pharmacy Program. Pharmaceutics is about an applied science encompassing the drug discovery, physical and chemical characterization, dosage form designing, formulation development, prototype and industrial manufacturing, quality control analysis and evaluation, approaches to drug delivery and disposition, while being used safely and effectively by patients. We offer a training environment that includes cutting edge laboratory instrumentation and technologies, experienced and devoted teachers, and knowledgeable staff. We aim to promote the development of safe and high quality products through teaching different modules integrated horizontally and vertically with other streams of the Pharm. D program. Our zealous faculty bring together expertise in physical pharmacy, dosage forms science, biopharmaceutics, bioanalysis, drug metabolism, drug transport, drug formulation, industrial manufacturing and development of novel drug delivery systems to support our educational and research missions.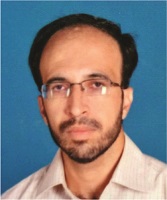 M.Phil., CQP (NUST), B. Pharm. (R.Ph., Pak.)
---
Assistant Professor and Ph.D. Scholar
Head Exam Cell and In-charge Pharmaceutics Department
Dr. Sarwar has been working as Assistant Professor and Incharge Department of Pharmaceutics at Shifa College of Pharmaceutical Sciences, Shifa Tamer-e-Millat University, Islamabad. He is a B.Pharm and an M.Phil (Pharmaceutics). Currently, he is awaiting his final PhD defense of thesis from UKM, Malaysia where he worked on the development of targeted drug delivery systems. He has vast experience of 19 years in pharmaceutical manufacturing and academics, with expertise in pharmaceutical technology, quality control and novel drug delivery systems. He has earned his professional diploma certification in quality management from Pakistan Quality Certification Board (PQCB). Dr. Sarwar is serving as a member of the District Quality Control Board (DQCB) as well. He has done significant research work and published several quality international papers. He has also co-supervised many postgraduate students and is also performing the additional responsibilities as Head Exam Cell (Annex campus) and Head Examination Committee SCPS.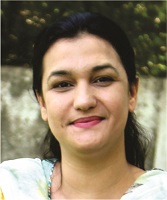 Dr. Faryal Jahan
M.Phil., B.Pharm. (R.Ph., Pak.)
---
Senior Lecturer and Ph.D. Scholar
Dr. Jahan has over 15 years of professional experience. During her long contribution as an academic pharmacist, she has taught physical pharmacy, dosage forms design, pharmacognosy and pharmaceutical technology. She has contributed to several academic and research publications. She has also developed a laboratory manual of pharmaceutics for Pharm.D. students which has achieved nation-wide appraisal. She is currently enrolled in PhD (Pharmaceutics) in which her project is focused on the development of nanomedicine in the form of micelles that can potentially act against ocular diseases..

Dr. Rashid Ali Khan
M.Phil., Pharm.D. (R.Ph., Pak.)
---
Senior Lecturer and Ph.D Scholar
Dr. Khan obtained his Doctor of Pharmacy (Pharm-D) from Riphah International University, Islamabad in the year 2013 and M. Phil. Pharmaceutics in the year 2017. He has working experience in ISO certified pharmaceutical company and has been working as a lecturer at Shifa College of Pharmaceutical Sciences since 2015. His area of interest in research is dosage form design and novel drug delivery systems. He has developed an improved dosage form of poor water-soluble drug Ebastine using the hydrotropic phenomenon of solubilization.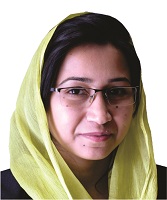 Dr. Rabia Gul
M.Phil., Pharm.D. (R.Ph., Pak.)
---
Lecturer and Ph.D. Scholar
Dr. Gul is a self-motivated and determined pharmacy graduate with practical industrial pharmacy experience. Her areas of expertise include quality control analysis of all dosage forms and raw materials, method validation and SOPs designing. Research expertise comprises nanomedicine, formulation development, in-vitro and ex-vivo drug release studies. Dr. Gul did her Pharm.D. with the distinction of Gold Medal Award from Hamdard University Karachi. She also earned Merit-based Fellowship from Quaid-i-Azam University, Islamabad in M.Phil. Her current research interests are Formulation development, nanomedicine, biocompatible polymers, transdermal drug delivery system, sustainable development of novel formulations and anti-arthritis novel dosage form. She has contributed to 3 peer-reviewed articles in international journals. Dr.Gul is pursuing her doctorate (PhD) in Pharmaceutics from COMSATS University.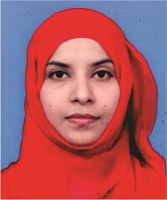 Dr. Wajeeha Khalid
M.Phil., Pharm.D. (R.Ph., Pak.)
---
Lecturer and Ph.D. Scholar
Dr. Khalid did her Pharm.D and M.Phil. (Pharmaceutics) from the University of Lahore. Based on her academic performance, she was awarded the Chancellor's silver medal in Pharm.D and gold medal in her M.Phil. Before joining academics, she has experience of working in pharmaceutical industries in production, export and quality assurance department. Dr. Khalid has contributed to several research publications and is focused on bridging the gap between industry and academia. Currently, she is enrolled in a PhD program (Pharmaceutics) at COMSATS University.