Anatomy at Shifa College of Medicine has an international reputation for scholarship, teaching & Research. The NCBM campus is home to the famous Prof. Muhammad Tahir Anatomy Museum; a valuable resource center for Human Anatomy Lovers. The Department has a commitment to public engagement at a number of levels from Schools to Arts projects.
Anatomy is the backbone of Shifa College of Medicine and one of the vibrant & dynamic department in Teaching & learning innovations; Curriculum planning & delivery; innovative assessments & feedback; Bench & applied research and establishing national & international collaborations.
Anatomy is chaired by a senior Professor and has three Associate Professors, one Assistant Professor and ten facilitators.
The department of Anatomy has a well-equipped modern Dissection hall, Bone bank, Museum, Mortuary and Histology lab. These are manned by a well trained and experienced support staff. The facilities and equipment are constantly improved. Along with a dedicated teaching faculty and support staff, these learning resources make for an effective learning environment and experience.
Department of Anatomy has been in the forefront of curricular change and reforms, its faculty members formed the advance guard and served as effective agents of change when the college shifted from the traditional curriculum to a systems-based integrated spiral curriculum in 2007.
Anatomy faculty have active research interests in biomechanics, neuroscience, reproductive sciences, cell biology, aging, wound healing, medical education and health The research interests of Anatomy staff cover a range of body structures and scale, from cellular organization to brain and behavior.
Recent achievements
Collaborated with RIU as academic partner in the conduct of International Conference on Medical Education, 2019(ICME-2019) at Pak China Friendship Center Islamabad from 19-22Oct. 2019.
Conducted a workshop on "Teaching & Learning Ethics & Professionalism in medical education" on sidelines of 5th ICME-2019.
Presented poster on "Ethics and Professionalism Training in Pakistani Medical Education: STMU/Shifa Experience" at AMEE-2019 held at Vienna, Austria from 24-28 Aug. 2019.
Department of Anatomy faculty (in 2019) contributed in seven research projects, which are at publication stage.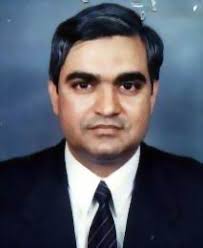 MBBS, DMS (Japan), MCPS (M.Ed)
---
Associate Professor
PMDC # 279-B
Faculty Reg. # 0051/279-B/M