Anatomy at Shifa College of Medicine has an international reputation for scholarship, teaching & Research. The NCBM campus is home to the famous Prof. Muhammad Tahir Anatomy Museum; a valuable resource center for Human Anatomy Lovers. The Department has a commitment to public engagement at a number of levels from Schools to Arts projects.
Anatomy is the backbone of Shifa College of Medicine and one of the vibrant & dynamic department in Teaching & learning innovations; Curriculum planning & delivery; innovative assessments & feedback; Bench & applied research and establishing national & international collaborations.
Anatomy is chaired by a senior Professor and has three Associate Professors, one Assistant Professor and ten facilitators.
The department of Anatomy has a well-equipped modern Dissection hall, Bone bank, Museum, Mortuary and Histology lab. These are manned by a well trained and experienced support staff. The facilities and equipment are constantly improved. Along with a dedicated teaching faculty and support staff, these learning resources make for an effective learning environment and experience.
Department of Anatomy has been in the forefront of curricular change and reforms, its faculty members formed the advance guard and served as effective agents of change when the college shifted from the traditional curriculum to a systems-based integrated spiral curriculum in 2007.
Anatomy faculty have active research interests in biomechanics, neuroscience, reproductive sciences, cell biology, aging, wound healing, medical education and health The research interests of Anatomy staff cover a range of body structures and scale, from cellular organization to brain and behavior.
Recent achievements
Collaborated with RIU as academic partner in the conduct of International Conference on Medical Education, 2019(ICME-2019) at Pak China Friendship Center Islamabad from 19-22Oct. 2019.
Conducted a workshop on "Teaching & Learning Ethics & Professionalism in medical education" on sidelines of 5th ICME-2019.
Presented poster on "Ethics and Professionalism Training in Pakistani Medical Education: STMU/Shifa Experience" at AMEE-2019 held at Vienna, Austria from 24-28 Aug. 2019.
Department of Anatomy faculty (in 2019) contributed in seven research projects, which are at publication stage.
Research Publication
ASHRAF HUSSAIN
ASSOCIATE PROFESSOR /DEPARTMENT OF ANATOMY/SCM/STMU
BIOETHICS
Cadaveric dissection a thing of the past? The insight of consultants, fellows, and residents
H Ghazanfar, S Rashid, A Hussain, M Ghazanfar, A Ghazanfar, A Javaid Cureus 10 (4)/14 /2018
Immunomodulatory effects of cholera toxin in mice.
A Hussain, K Himeno, H Mayumi, I Kawamura, S Tsuru, K Nomoto/Natural immunity and cell growth regulation 8 (4), 231-244/7/1989
Stressors and coping strategies for stress among Pakistani medical students
H Ghazanfar, S Hameed, MS Shafi, A Hussain/Rawal Medical Journal 40 (2), 228-232/4/2015
Long term effects of adult-thymectomy on natural killer activity and spontaneous tumor incidence.
A Hussain, H Mayumi, K Taniguchi, K Tanaka, K Nomoto/The Japanese journal of experimental medicine 60 (5), 273-278/3/1990
Severity of stress in Pakistani medical students
H Ghazanfar, I Haq, JRA Bhatti, S Hameed, MS Shafi, A Hussain, Rawal Medical Journal 41 (1), 116-120/2/2016
Suicidal ideation among Pakistani medical students
H Ghazanfar, S Hameed, Ghazanfar, MS Shafi, A Hussain, A Javaid,Rawal Medical Journal 40 (4), 458-462/2/2015
Knowledge of anatomy: where do we stand?
RI Hashmi, A Hussain, M Saeed, R iqbal Hashmi, A Hussan, S Arooj,Journal of the Dow University of Health Sciences (JDUHS) 3 (3), 95-99/1/2009
Combined treatment of autoimmune MRL/Mp-lpr/lpr mice with cholera toxin plus irradiation
JL Fan, K Himeno, A Hussain, K Nomoto/Biotherapy 1 (1), 97-102/1/1989
Effect of parental relationships on stress levels of students in a medical college
A Hussain, HM Khan, H Ahmer, S Zafar, S bin Altaf, S Ahmed, S Awais/Journal of Shifa Tameer-e-Millat University 4 (1), 39-43/2021
Faculty development program: Way to excellence
R Shafi, A Rauf, K Irshad, I Zaman, A Hussain, SS Shah, M Amir/Journal of Shifa Tameer-e-Millat University 3 (2), 107-112/2020
The anatomy of vertebral artery. A study of 48 Cadaver dissections.
M Saeed, M Fayez, A Hussain/SURGIMED Medical & Dental journal 1 (2), 7-10/2009
Beneficial effects of Dietary Fish in Global Perspective.
A Hussain/White Meat Journal 2 (1), 8/1998
Similarities and differences in immunological actions of cholera toxin and glucocorticosteroid
A Hussain/Pakistan Journal of Medical Research ; 32(No.2)108-121 32 (2), 108-121
/1993
Differential effects of cholera toxin administration on cytokine production in mice.
A Hussain/Pakistan Journal of Pathology 4 (1), 7-12/1993
Dr Syeda Sara Bano
Research: Thesis Project/Topic:
CONSERVATION OF RENAL HISTOMORPHOLOGICAL STRUCURES IN RATS ON CAFFEINATED ENERGY DRINKS:ROLE OF VITAMIN D3
Published Articles:
Histological Effects of Caffeinated Energy Drink Consumption and Its Withdrawal on
Kidneys of Experimental Rats (JIIMC 2020 Vol. 15, No.2)
Effects of caffeinated energy drink withdrawal on histological and biochemical parameters of adult albino rat kidneys (Med Sci 2020 April;28(2):107-111)
Bisphenol A: A Testicular Teratogen in Developing Rats During Prenatal and Early Postnatal Life (JIIMC 2021 Vol. 16, No.1)
Ameliorative effect of Alpha-tocopherol on E-cigarette liquid induced histomorphological changes in adrenal cortex of male Albino rats (TPMJ/2021.28.04.4768)
Dr. Sumera Khalil
PUBLICATION:
Vertebral Endplate Changes Correlate with Presence of Cartilaginous Endplate in the Herniated Disc Tissue: Factor Predicting Failure of Conservative Treatment
Latif R, Imran S, Zehra U /Asian Spine J. 2021 Sep 1/ doi: 10.31616/asj.2021.0106.
Epub ahead of print. PMID: 34461689.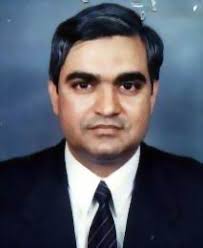 MBBS, DMS (Japan), MCPS (M.Ed)
---
Associate Professor
PMDC # 279-B
Faculty Reg. # 0051/279-B/M