PhD Pharmaceutical Chemistry
Introduction
The Department of Pharmaceutical Chemistry is a vital part of SCPS which stands out for the provision of foundational knowledge of Pharmaceutical Sciences. This department is offering various courses related to organic, inorganic, medicinal, analytical and biological chemistry at both undergrad and postgrad levels. These courses have been designed to produce substantial human resources to bridge the existing gaps in healthcare, academia and research sectors. The PhD program in Pharmaceutical Chemistry is designed to inculcate necessary research skills and specialist knowledge in learners. This program is devised for the training of individuals to improve their theoretical concepts and critical thinking, to generate innovative ideas and contribute to diverse areas of pharmaceutical chemistry. Research in pharmaceutical chemistry encompasses a broad spectrum of activities including synthesis, design, purification, characterization, testing and development of drug molecules. The wide scope and diversity of the program would provide adequate freedom to the PhD scholars for execution of translational research. The research scholars would have the opportunity to work in conventional grounds of chemistry along with inter-disciplinary fields including material sciences, chemical physics, protein science, bioengineering and computational modelling. This approach will empower the individuals to work independently in various processes of drug discovery, development and introduction in the therapeutic mainstream. This program has also been designed to enhance the instructional/teaching, writing, communication and technopreneurship capacities. Overall, the scholars would be exposed to the cognitive concepts along with practical expertise in fundamental, advanced and applied chemistry to gain the required expertise in their selected areas of interest.
Career opportunities for Ph.D. Pharmacology graduates
The PhD (Pharmaceutical Chemistry) program is intended to facilitate the academic and research personnel to work as researchers, academicians, policy makers and managers in academic & research institutes, regulatory bodies and pharmaceutical industries.
Scheme of Studies
LIST OF COURSES

Course Code

Course Title

CH(s)

PDDD8003

Drug Discovery and Development

3

PBST8003

Biostatistics-II

3

PCHM8003

Advances in Pharmaceutical Organic Chemistry-II

3

PCHM8013

Advances in Pharmaceutical Biochemistry-II

3

PCHM8023

Advances in Nutritional Biochemistry

3

PCHM8033

Macromolecular Drug Targets

3

PCHM8043

Advances in Natural Products Chemistry

3

PCHM8053

Advances in Medicinal Chemistry

3

PCHM8063

Drug Designing

3

PCHM8073

Advanced Spectroscopic Analysis

3

PCHM8083

Advanced Chromatographic Techniques

3

PCHM8093

Uses of Polymers in Drug Delivery

3

PCHM8103

Crystal Engineering

3

PRTM8003

Research Methodology-II

3

Total Credit Hours

42
LIST OF ADDITIONAL, NONCREDITED COURSES

Course Code

Course Title

CH(s)

PCHM8110

Research Ethics

10

PCHM8120

Teaching Methodologies

10

PCHM8130

Writing and Communications in Science

10

PCHM8140

Technopreneurship

10

To be assessed by formative assessment protocols

40
DOCTORAL RESEARCH WORK

Course Code

Course Title

CH(s)

PDRW9006

Research Work

6

PDRW9016

6

PDRW9026

6

PDRW9036

6

PDRW9042

Open Defense/ Seminar

2

PDRW9054

Publications

4

To be assessed by DRAC** through biannual progress reports

30
PROGRAM SUMMARY

PhD Program

Credit Hours

First

09

Second

09

Total Course Work

18

Third & Fourth

12

Fifth & Sixth

18

Total Research

30

Total CH(s)

48
Mandatory requirements:*
Completion of 18 credit hours for course work
Qualification of Comprehensive examination
Satisfactory biannual progress reports
Completion of thesis work and Foreign evaluation
At least two publications from PhD research work (in H.E.C. approved 'W' category journals)
Qualification of open defense
* As per approved program structure
Academic guidelines
Guidelines to Earn a PhD Degree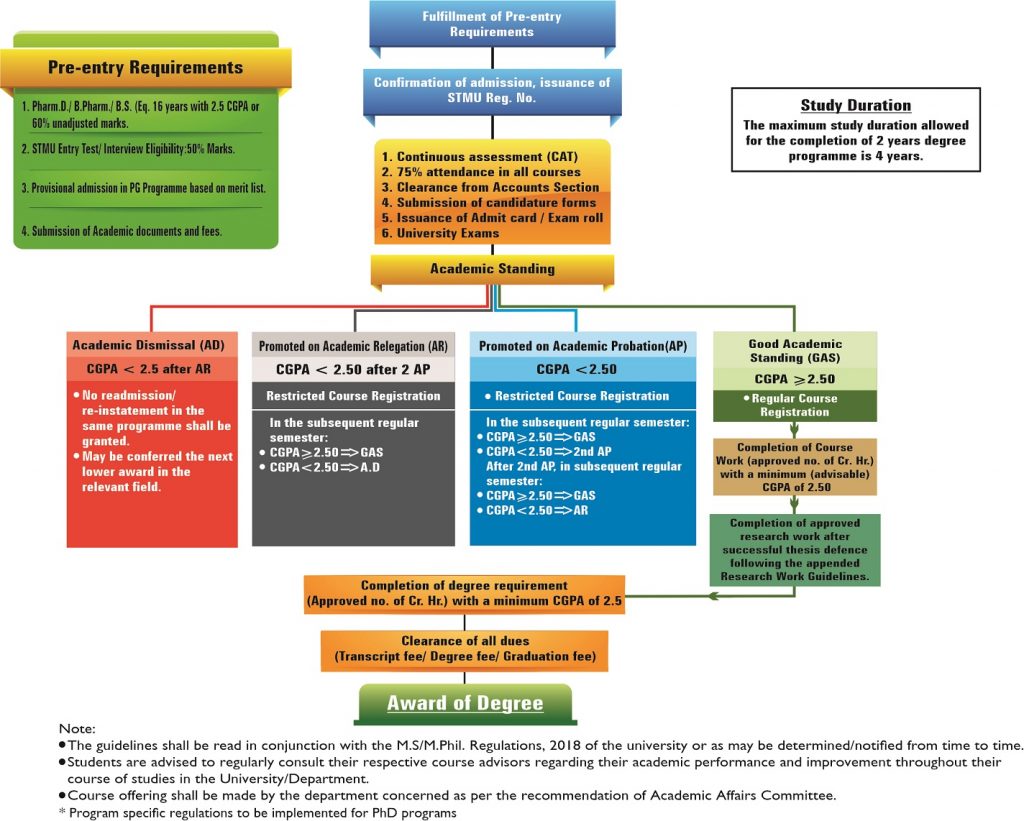 Research Work Guideline for Postgraduate Studies at STMU