M. Phil Clinical Pharmacy Practice
Introduction
Shifa College of Pharmaceutical Sciences (SCPS) was established under the umbrella of Shifa Tameer-e-Millat University to cater the needs of the clinical, hospital, industrial and retail pharmacy set up. The institute is in a distinctive position due to its affiliation with a world class health care system at Shifa International Hospital (SIH). It is the only model institute which is in the unique position of being a tertiary care setup along with a teaching institution for Pharmaceutical Sciences through its affiliation with Shifa Tameer-e-Millat University (STMU). This unique position (an institution with hospital & clinical pharmacy setup and a HEC & PCP recognized institution imparting education in pharmaceutical sciences) can be effectively utilized (with minimal resources and magnified outcome) to foster the development of clinical pharmacy practice within the pharmacy profession. It will set both STMU and SIH as a pioneer institute imparting education in this critical domain of clinical pharmacy practice throughout Pakistan.
The M.Phil. in Clinical Pharmacy Practice is a post graduate program which is first of its kind in the country that would offer the pharmacists a platform to develop advanced skills and knowledge which can be applied for the betterment of their profession and healthcare. This PG program is associated with a particular career path of clinical pharmacy but most skills can be applied to a range of employment situations in clinical, hospital, retail/ community and industrial set up. The program is designed for registered pharmacists who are looking to extend their clinical knowledge and skills in order to succeed in clinically-orientated careers within a variety of healthcare and academic settings. It would help in building on the existing knowledge of disease states, pharmacology and pharmacokinetics to enable application in a clinical setting. The scholars would be equipped to assess drug therapy for effectiveness, safety, compatibility and use this information to make effective interventions and develop and document pharmaceutical care plans. The program would contribute to producing academicians in the area of Clinical Pharmacy Practice for teaching of relevant undergraduate courses (Pharm. D). Moreover, the scholars would be able to develop valuable practical skills including written and oral communication, and the ability to design a project, collect, analyze and interpret data.
Career opportunities for M. Phil. Clinical Pharmacy Practice Program
The M.Phil. Clinical Pharmacy Practice program has been designed to develop the clinical pharmacy skills of pharmacists working in all sectors of the Pharmacy profession. It would help in equipping the practicing pharmacists with the skills to progress into higher level clinical roles within healthcare organizations. In particular, it is most useful for hospital pharmacists working at junior grades. It would also serve as a means for Continuing Professional Development (CPD) for pharmacists employed in primary care or academics. To re-iterate, a postgraduate program or M. Phil. is normally a pre-requisite for higher-grade posts. Similarly, community-based pharmacists are increasingly expected to obtain qualifications beyond their first degree to secure posts with a clinical element. Larger chain retail pharmacies in urban areas, both in Pakistan and abroad, have initiated the provision of clinical services including health screening, travel clinics, vaccination, anticoagulation, blood pressure assessment and medicines-use reviews. The course covers a broad range of clinical topics, preparing pharmacists for the ever-increasing clinically-orientated roles expected in current practice.
Scheme of Studies
First Semester

Course Code

Module

Course Title

CH(s)

PCTP 6004

Theory

Therapeutics I

4

PCPP 6004

Theory

Clinical Pharmacy Practice I

4

PCPL 6001

Theory

Clinical Pharmacy Learning I

1

PCRT 6001

Theory

Clinical Rotation I

1

PBST 6012

Theory

Biostatistics

2

Total Credit Hours

12
Second Semester

Course Code

Module

Course Title

CH(s)

PCTP 6014

Theory

Therapeutics I

4

PCPP 6014

Theory

Clinical Pharmacy Practice I

4

PCPL 6011

Theory

Clinical Pharmacy Learning I

1

PCRT 6011

Theory

Clinical Rotation I

1

PRTM 6002

Theory

Research Methodology

2

Total Credit Hours

12
Third & Fourth Semester

Course Code

Module

Course Title

CH(s)

PCPP 7006

Research

Synopsis and research work

6

PCPP 7016

Research

Publication(s) and thesis

6

Total Credit Hours

12
PROGRAM SUMMARY

PG Program

Credit Hours

First

12

Second

12

Total Course Work

24

Third & Fourth

12

Total Research

12

Total CH (s)

36
Academic Guidelines
Guidelines to Earn a Postgraduate Degree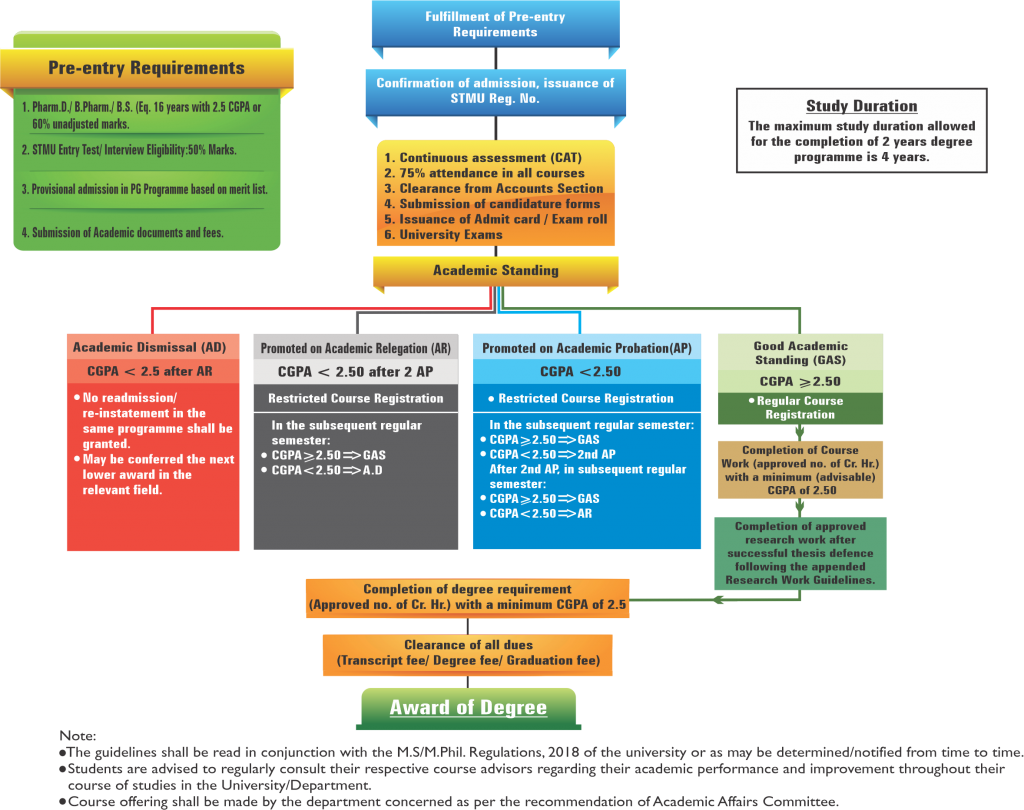 Research Work Guideline for Postgraduate Studies at STMU