Introduction
The Ph.D. Pharmacology program offered by the Department of Basic Medical Sciences, Shifa College of Pharmaceutical Sciences has its focus on the study and research in basic, applied and clinical domains. Pharmacology, being an interdisciplinary field, incorporates the disciplines of physiology, biochemistry, organic chemistry, behavioural sciences, and medicine. With the advent of modern technology and consequently new research avenues, the field of pharmacology is bringing together an even wider range of disciplines, resulting in the merger of the traditional aspects of pharmacology with novel approaches drawn from other disciplines, such as biophysics, biomedical engineering, and molecular genetics.
The coursework and research activities in Ph.D. Pharmacology program will focus on deciphering the molecular basis of disease processes as well as their treatment mechanisms explained at the molecular level. Our curriculum emphasizes on interdisciplinary doctoral training in molecular pharmacology while feeding basic and applied side. Students will be trained in the fields of pharmacology, as well as in molecular, genetic, biophysical, and structural approaches to enable them to solve complex problems in basic and clinical pharmacology as well as patient care.
Career opportunities for Ph.D. Pharmacology graduates
The doctoral program in Pharmacology would provide the graduates with a solid foundation in biomedical and clinical sciences with a variety of career options. With the ever-expanding scope of drug discovery and development in genetic, metabolic and infectious diseases, the graduates are expected to attain academic, supervisory and managerial positions in universities, hospitals, pharmaceutical industries, biotech companies, research organizations as well in governmental bodies. They may also pursue a career as an independent academic writer and researcher.
Scheme of Studies
LIST OF COURSES

Course Code

Course Title

CH(s)

PPMC8003

Signalling and the Control of Gene Expression

3

PPMC8013

Modern Techniques in Advanced Pharmacology

3

PPMC8023

Advances in Immunopharmacology

3

PPMC8033

Neuroinflammation as a target for Neurological Diseases

3

PPMC8043

Systems pharmacology

3

PDDD8003

Drug discovery and development

3

PPMC8113

Seminar-I

3

PPMC8123

Seminar-II

3

Total Credit Hours

24

DOCTORAL RESEARCH WORK

Course Code

Course Title

CH(s)

PDRW9006

Research Work

6

PDRW9016

6

PDRW9026

6

PDRW9036

6

PDRW9042

Open Defense/ Seminar

2

PDRW9054

Publications

4

To be assessed by DRAC** through biannual progress reports

30
PROGRAM SUMMARY

PhD Program

Credit Hours

First

09

Second

09

Total Course Work

18

Third & Fourth

12

Fifth & Sixth

12

Total Research

30

Total CH(s)

48
Mandatory requirements:*
Completion of 18 credit hours for course work
Qualification of Comprehensive examination
Satisfactory biannual progress reports
Completion of thesis work and Foreign evaluation
At least two publications from PhD research work (in H.E.C. approved 'W' category journals)
Qualification of open defense
* As per approved program structure
Academic guidelines
Guidelines to Earn a PhD Degree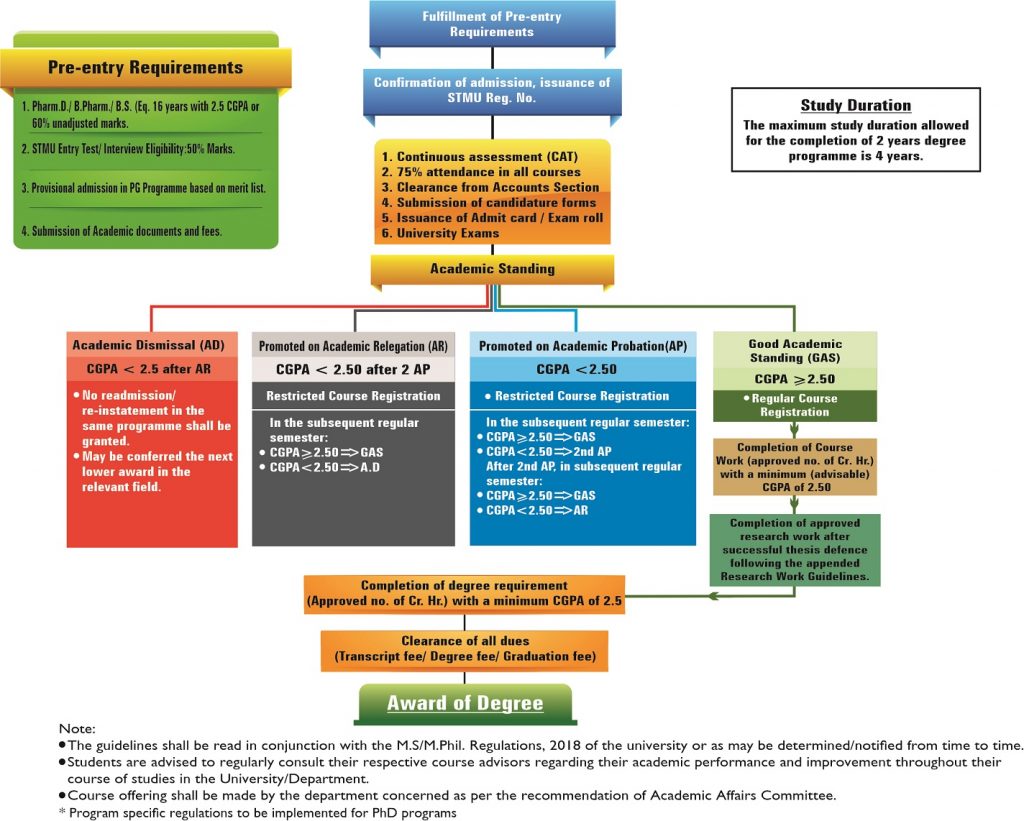 Research Work Guideline for Postgraduate Studies at STMU