Program Educational Objectives (PEOs)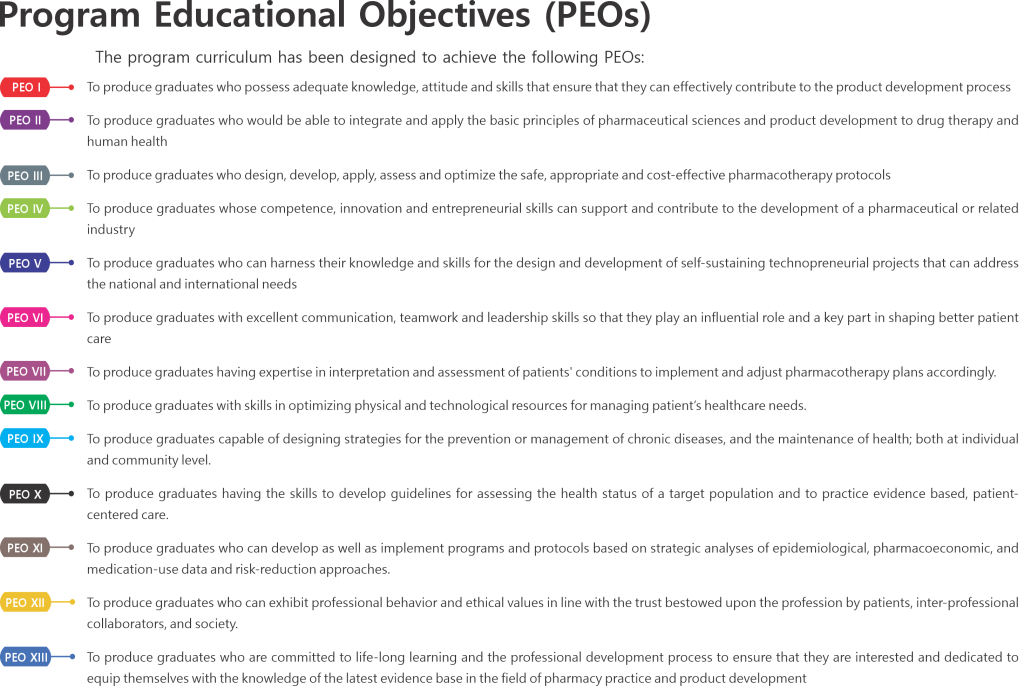 Scheme of Studies
Year

Blocks

Modules

Courses

Foundation Year
(1st Professional)

I

Biochemical Basis of Life I

Basic Pharmaceutical Sciences I

Cellular Basis of Life I

Professional Practice I

Organic Chemistry
Biochemistry
Anatomy and Histology
Physiology
Pathology Physical Pharmacy
Pharmacognosy
Forensic Pharmacy
Cell Biology
Pharmaceutical Microbiology and Immunology
Molecular Biology
Behavioral Sciences
Pharmaceutical Mathematics and Biostatistics

II

Biochemical Basis of Life II

Basic Pharmaceutical Sciences II

Cellular Basis of Life II Behavioral Sciences I

III

Chemical Biology

Basic Pharmaceutical Sciences III

Cellular Basis of life III
Year

Blocks

Modules

Courses

Freshman Year
(2nd Professional)

IV

Basics of Drug Discovery & Development I

Neurosciences I

Principles of Pharmacokinetics

Medicinal Chemistry
Pharmaceutical Analysis
Anatomy and Histology
Physiology
Pathology
Pharmacology and Therapeutics
Pharmacotherapy
Pharmacognosy
Biopharmaceutics
Dosage Form Science
Clinical Pharmacy
Dispensing, Community, Social and Administrative Pharmacy
Behavioral Sciences
Computer and its Application in Pharmacy
Functional English
Hands-on Training/Internship

V

Basics of Drug Discovery & Development II

CVS I (CVS)

Professional Practice II

VI

Oral Dosage Form I

CVS II (CVS & Hematology)

Behavioral Sciences II

VII

Oral Dosage Form II

Renal System

Integrated Practice I (Retail Community)
Year

Blocks

Modules

Courses

Sophomore Year
(3rd Professional)

VIII

Sterile Products

Gastrointestinal System

Behavioral Sciences III

Medicinal Chemistry
Pharmaceutical Analysis
Anatomy and Histology
Physiology
Pathology
Pharmacology and Therapeutics
Pharmacotherapy
Pharmacognosy
Biopharmaceutics
Dosage Form Science
Clinical Pharmacy
Dispensing, Community, Social and Administrative Pharmacy
Behavioral Sciences
Computer and its Application in Pharmacy
Functional English
Hospital Pharmacy
Industrial Pharmacy
Hands-on Training/Internship

IX

Instillations

Endocrine & Reproductive System

Professional Practice III

Integrated Practice II (Industrial)

X

Aerosols & Inhalations

Respiratory System

Professional Practice IV

Integrated Practice III-A (Hospital OPD)

XI

Topical and Transdermal Systems

Integumentary System and MSK System

Behavioral Sciences IV

Integrated Practice III-B (Hospital IPD)
Year

Blocks

Modules

Courses

Junior Year
(4th Professional)

XII

Unit Operations

Neurosciences II

Professional Practice V-A

Integrated Practice IV-A (Clinical)

Medicinal Chemistry
Pharmaceutical Analysis
Anatomy and Histology
Physiology
Pathology
Pharmacology and Therapeutics
Pharmacotherapy
Pharmacognosy
Biopharmaceutics
Dosage Form Science Clinical Pharmacy
Dispensing, Community, Social and Administrative Pharmacy
Behavioral Sciences
Computer and its Application in Pharmacy
Functional English
Hospital Pharmacy Industrial Pharmacy Forensic Pharmacy
Pharmaceutical Mathematics and Biostatistics Hands-on Training/Internship

XIII

Clinical Pharmaceutics

Infectious Diseases

Behavioral Sciences V

Integrated Practice IV-B (Clinical)

XIV

Biopharmaceutics I

Nutrition Support

Professional Practice V-B

Integrated Practice IV-C (Clinical)

XV

Biopharmaceutics II

Oncology

Behavioral Sciences VI

Integrated Practice IV-D (Clinical)
Year

Blocks

Modules

Courses

Senior Year
(5th Professional)

XVI

Advances in DDD I

Professional Practice VI A

Research Methodology I

Integrated Practice IV-E (Clinical)

Medicinal Chemistry
Pharmaceutical Analysis Anatomy and Histology
Physiology
Pathology
Pharmacology and Therapeutics
Pharmacotherapy
Pharmacognosy
Biopharmaceutics
Dosage Form Science Clinical Pharmacy
Dispensing, Community, Social and Administrative Pharmacy Behavioral Sciences
Computer and its Application in Pharmacy Functional English
Hospital Pharmacy Industrial Pharmacy Forensic Pharmacy
Pharmaceutical Mathematics and Biostatistics
Pharmaceutical Management and Marketing
Hands-on Training/Internship

XVII

Advances in DDD II

Professional Practice VI B

Research Methodology II

Integrated Practice IV-F (Clinical)

XVIII

Community Service & Public Health

Entrepreneurship

Final Year Project

Student-led Clerkship
Program Design
The student shall be able to develop integrated projects (products/ procedures/ set-ups) to ensure safe, efficacious and cost-effective use of medicines through production, use, promotion, entrepreneurship and scholarship.
The student shall be able to:
Plan a pharmacotherapeutic intervention plan for the patients suffering from a specific diseased state.
Develop an understanding of technical, technological, managerial, regulatory and financial requirements of establishing a pharmacist-run practice set-up.
Contribute to the fulfilment of national needs as an active member of the society as a person and a professional.
The student shall develop an understanding of the biological, chemical and physical processes involved in the preparation of drug molecules/ dosage forms and the mechanisms that lead to the establishment of their pharmacological actions at molecular, cellular, organ and organismal level.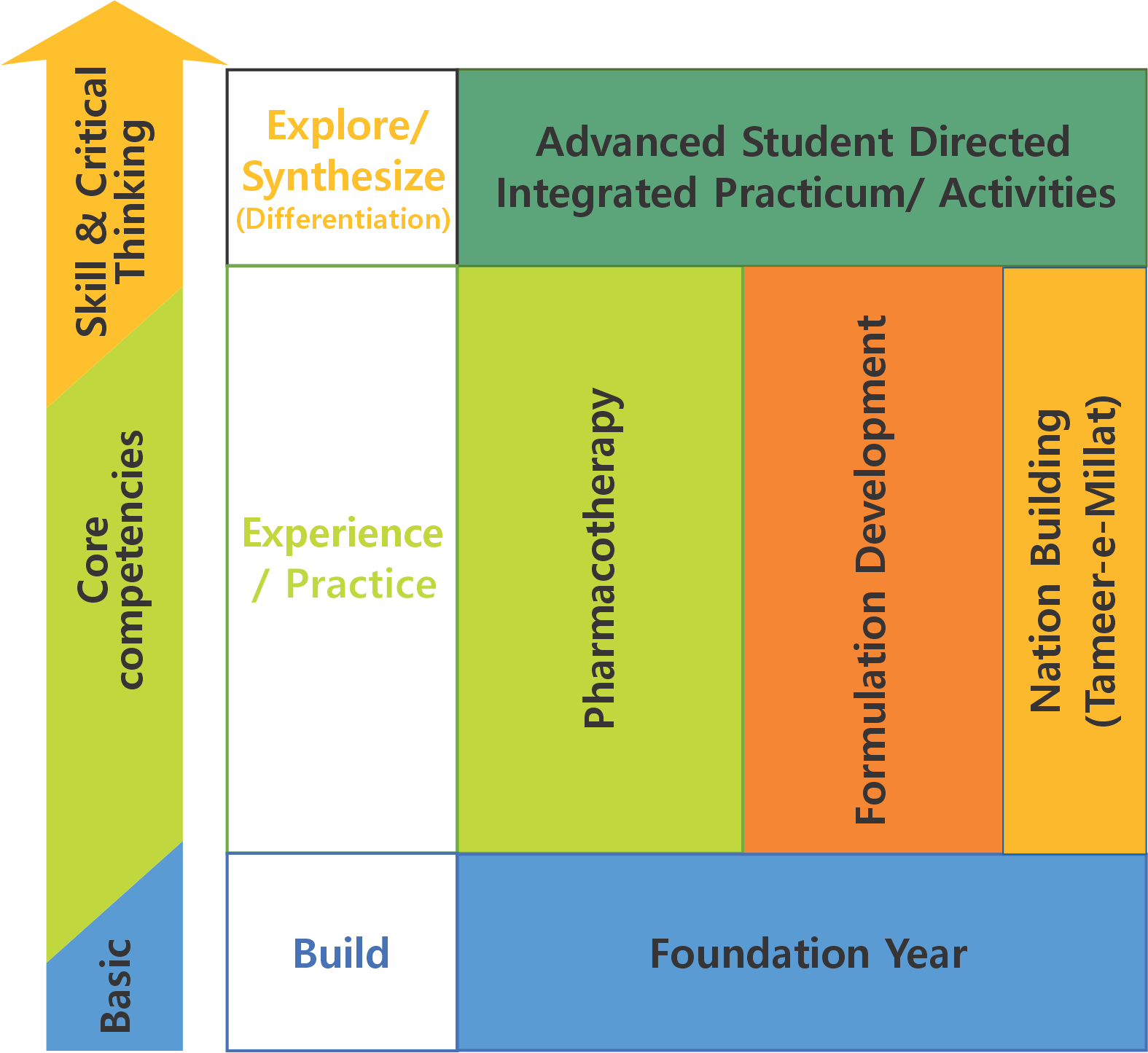 Career Choices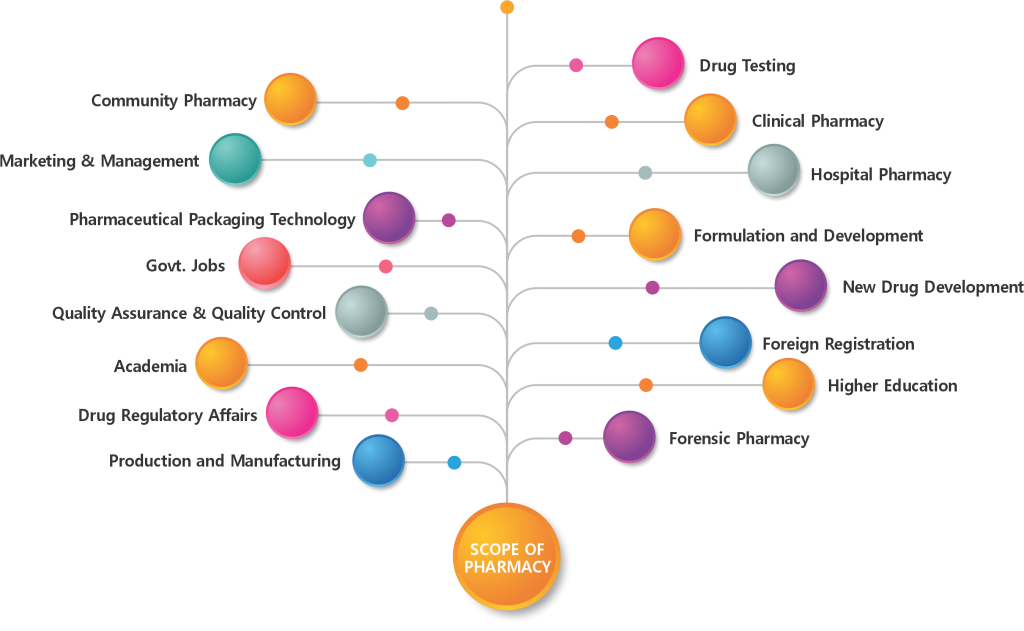 Ten Star Pharmacists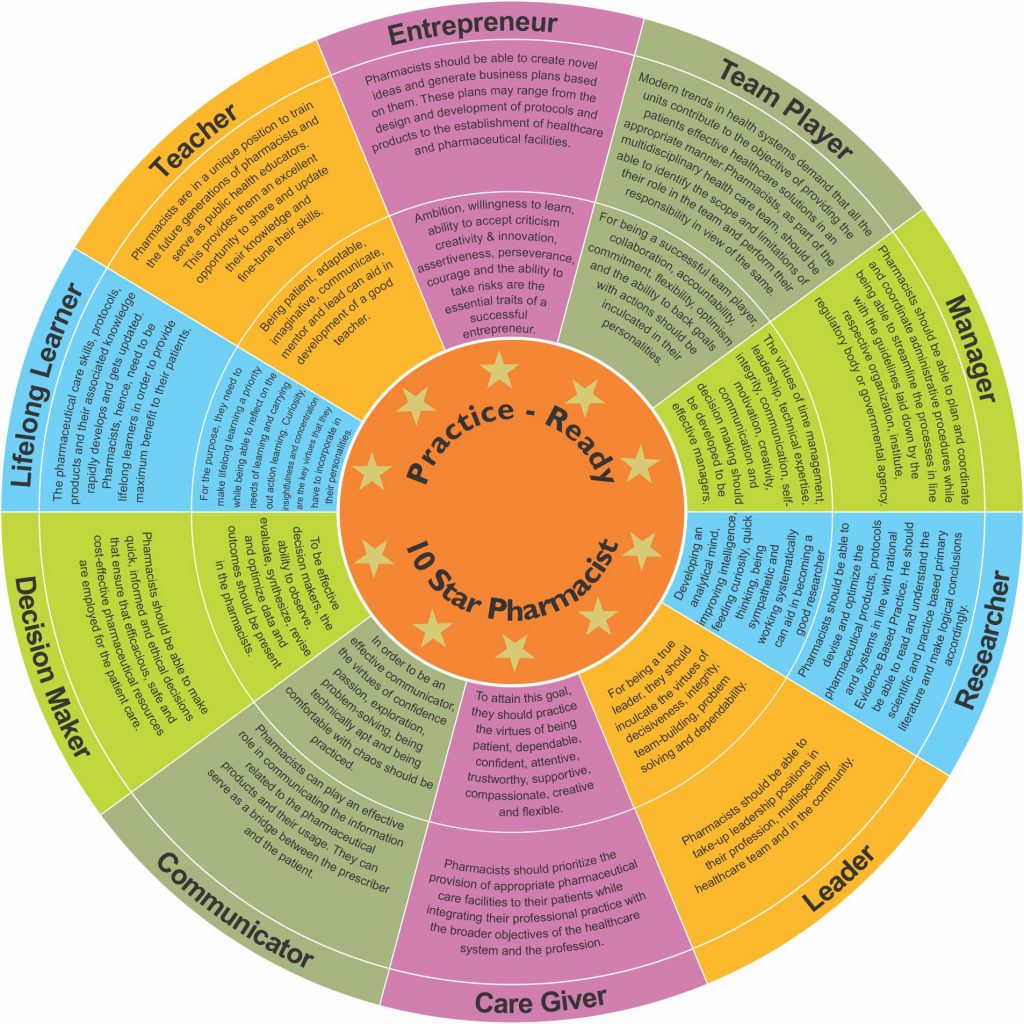 Competency-Driven Curriculum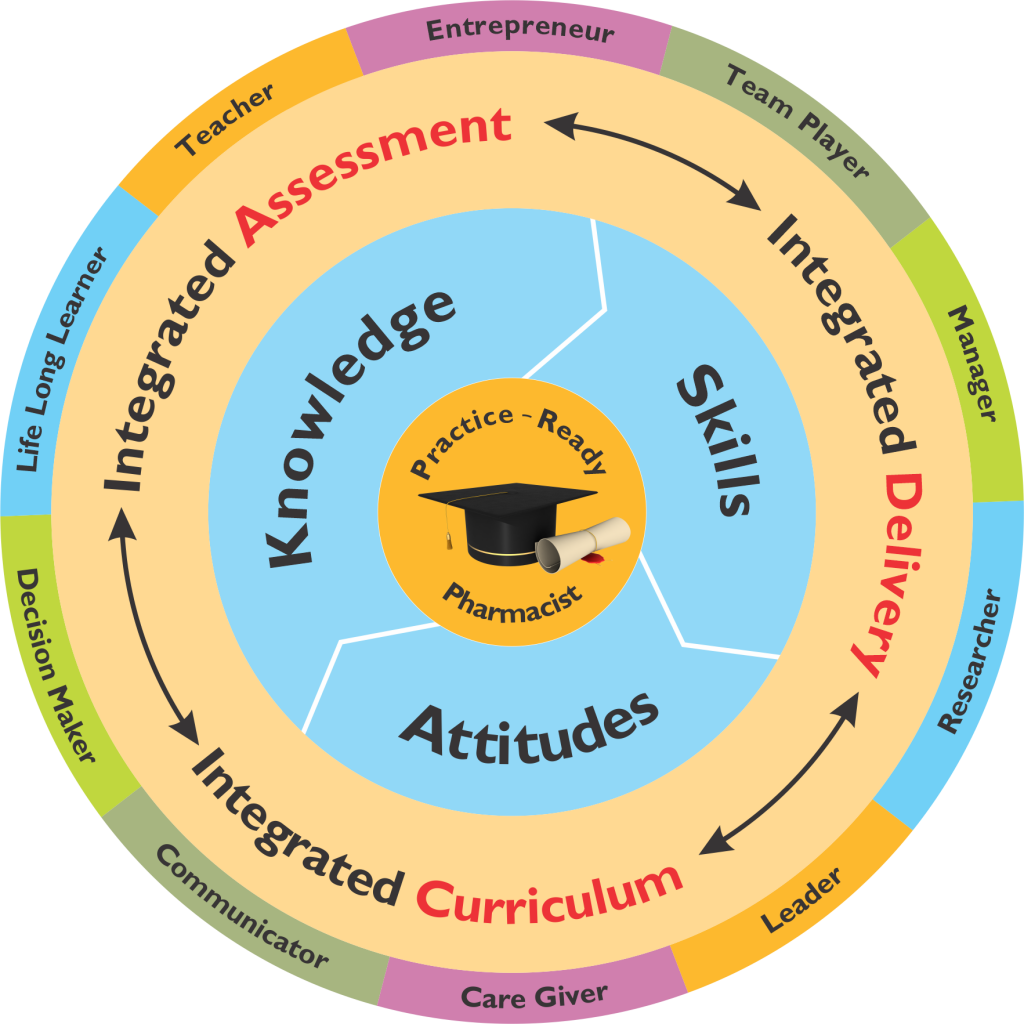 Vertizontal Alignment of Meta-curricular Academic Streams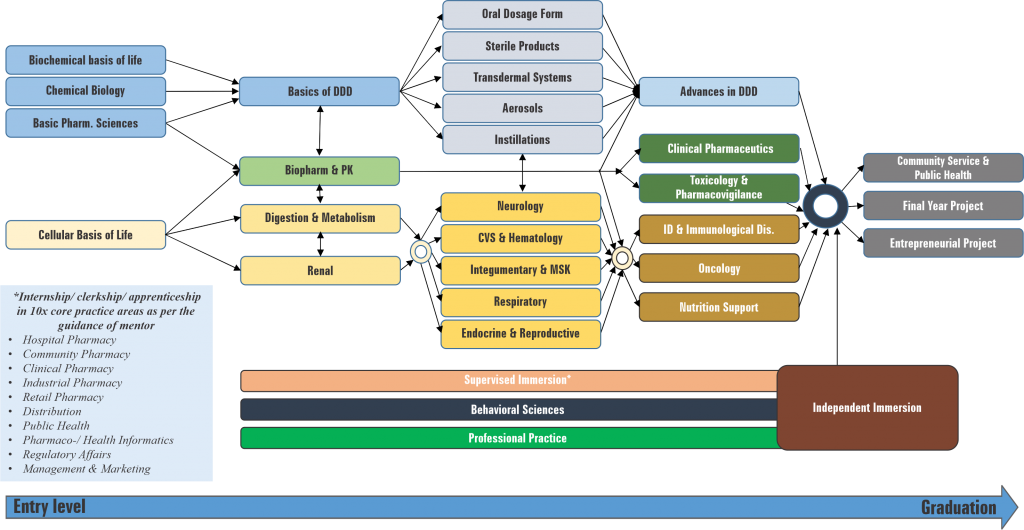 ICMC- Guidelines to Earn the Degree of Doctor of Pharmacy
Semester System- Guidelines to Earn the Degree of Pharm.D Semester System