Premises and Infrastructure Facilities
Shifa College of Pharmaceutical Sciences has a campus spread over 18 kanals in the sector H-8/4, heart of Islamabad. The campus houses the building (lecture halls, tutorial rooms, laboratories, faculty offices and library), student cafeteria, lawns and hard courts for sports activities. The campus has been planned in a manner to ensure the on-campus availability of all the curricular, co-curricular and extra-curricular facilities.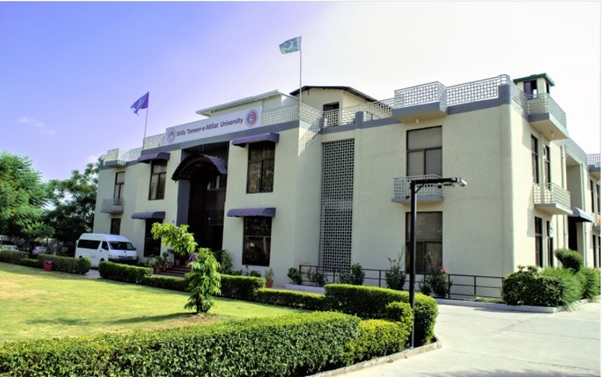 Lecture Halls
SCPS has five spacious lecture halls that can accommodate around 80 to 100 students at a time. Located in the basement of the SCPS building, the lecture halls have been designed in a manner that ensures the maximum interaction of the students with the teachers. The halls are well-equipped with audiovisual aids in order to facilitate the instructors to combine their oral presentations with high-resolution imagery.
Libraries
The students have access to 3 well-stocked libraries. The on-campus library has more than 2100 books on subjects related to pharmaceutical sciences. The digital library has around 5000 books aimed to ease of access and lowering expenses for the students. A central library stocked with 10,900 books is available in the STMU central building. SCPS also has access to multiple online journals and magazines to provide the students an opportunity to gain latest information in their area of interest. All the books and journals are original manuscripts of highest printed quality available. The collection consists of titles related to pharmaceutical sciences, medical sciences, humanities, social sciences and allied health sciences.
Information Systems (IS)
The campus has a spacious, well-furnished and air-conditioned computer laboratory equipped with latest personal computer having high speed internet facility. There is an active Campus Management System and Learning Management System to facilitate the students, parents and faculty members to provide digitalized access to academic, attendance and financial records. Future plans of the Information Systems include the provision of trans-campus internet facility to the students. In collaboration with HEC, the IS department plans to provide full access to Microsoft genuine software.
Laboratories
A total of 11 laboratories have been established to provide the pharmacy students an opportunity to gain hands-on experience and technical training. The labs are well-equipped with the latest, state-of-the-art equipment and are continually updated to parallel the international progress in the field of pharmaceutical sciences. The labs include:
Pharmaceutical Chemistry laboratory
Pharmaceutics laboratory
Pharmacognosy laboratory
Physiology, Anatomy and pharmacology laboratory
Biochemistry laboratory
Microbiology and Pathology laboratory
Industrial pharmacy laboratory
Quality control laboratory
Computer laboratory
Animal House
Molecular pharmacology laboratory