MESSAGE FROM THE PRINCIPAL, SCD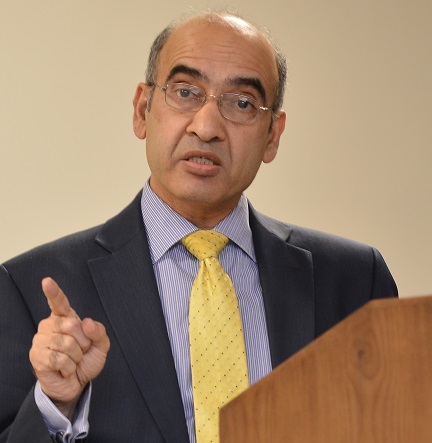 Welcome to Shifa College of Dentistry (SCD), a constituent college of Shifa Tameer-e-Millat University (STMU), Islamabad. I am honoured to serve as the college's first principal and lead our efforts to improve oral health through excellent education, patient care, service and research.

Shifa College of Dentistry, aims to be the leader in the dental education and alleviation of oral disease. Students of Shifa College of Dentistry are fortunate to study in this college, which is associated with Shifa International Hospital and Shifa College of Medicine. Both these institutes have a national and international reputation for excellent patient care, medical education and training. Shifa International Hospital is one of the 3 hospitals in Pakistan, which are accredited by the Joint Commission International (JCI).

We have an integrated competency based dental curriculum at Shifa College of Dentistry. The foundation of this curriculum is based on the integrated curriculum of Shifa College of Medicine (SCM) and this will be a unique opportunity for the dental students to get exposed to the clinical environment in their first year training. Basic sciences and clinical skills teaching are integrated throughout the course and students learn clinical skills from the very beginning. We place great emphasis on professionalism and patient care, right from the first year, and the students of our college will not only be competent clinicians but also true professionals.

We also strongly believe in research, patient centred care and evidence based practice and, therefore, Shifa College of Dentistry has endeavoured to combine these elements in the dental training.

The dental school setting and working environment is different from the environment of private practice in the rural areas. Keeping this in mind, we are contemplating opening our additional small dental set up in a community outreach centre, outside the dental school. Students will rotate to this centre to gain experience in the real life clinical set up where most of them would practise after graduation. This outreach training will be in addition to the clinical training at the dental school.

Shifa College of Dentistry is situated on the west service road, opposite to Sohan Interchange, with excellent access from the main Expressway. The college is at a distance of 5km, on the main Islamabad Expressway, from zero point, Islamabad.

As Principal, it is a privilege to lead a school with highly qualified, motivated and dedicated staff and such bright, hardworking and enthusiastic students. I extend a warm welcome to all the students and wish you success in your future pursuits.